With the amount of focus placed on social media platforms like Facebook, Twitter and Instagram, LinkedIn (sadly) gets overlooked by many marketers. LinkedIn has long been viewed as a credible hiring solution, but this social media platform—with its nearly 660 million users—is so much more than that. LinkedIn also is the ideal platform for B2B-focused companies to efficiently and effectively reach audiences and generate qualified leads. Think about it: what is one social media network where you know professionals are spending their time? LinkedIn. Does that include produce buyers? Certainly!
How LinkedIn Can Help Marketers Reach Fresh Produce Buyers
If you're a marketer in the fresh produce space, this platform likely warrants a lot more of your attention (and advertising dollars) than it's currently getting! Here's how you can use LinkedIn to reach and engage your buying audiences:
Sharing Company News & Updates
LinkedIn is the perfect place to share your company's latest news from industry publications like The Packer and ANUK or to post updates on your team's attendance at a major industry event. While information like this doesn't always perform particularly well on Facebook (particularly if you utilize social media platforms to reach consumers), LinkedIn provides companies with an appropriate space to highlight trade-centric news. Think it's too good to be true? One of our clients, a service provider in the fresh produce space, is able to generate upwards of 200K qualified impressions per month with only a modest ad spend. The best part: they specifically use LinkedIn to reach growers and retailers—certainly a highly relevant audience comprised of other fresh produce industry professionals!
Sharing Industry Thought Leadership Pieces
If your goal is to become a thought leader in the industry, LinkedIn is the place to be! Furthermore, consider the potential impact of posting your site content on the platform: a whopping 50% of social media traffic to B2B websites comes from LinkedIn. If you want to get a leg up on the competition this year, try going beyond posting press releases alone and use LinkedIn as a means of sharing educational white papers, articles and blog posts that your customers can use to improve their businesses.
LinkedIn Lead Generation
According to Hubspot, LinkedIn is 277% more effective than Facebook and Twitter at generating leads.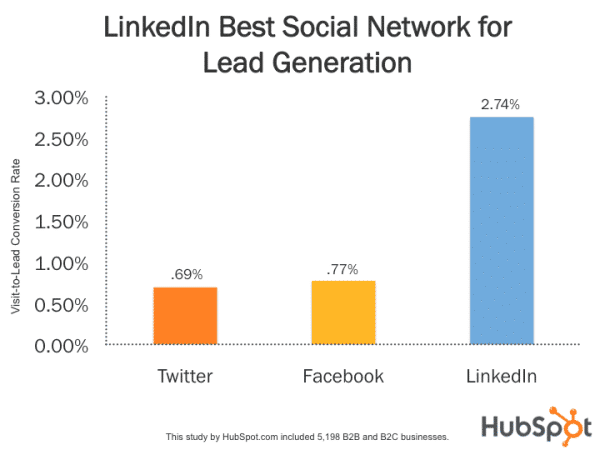 Advertise to Drive Traffic & Generate More Leads
LinkedIn offers pay-per-click (PPC) ads with targeting options that allow you to really dig deep to target the specific companies and prospects you want your content to reach. That's right—you can actually tell LinkedIn you want your ads to be shown to the employees of specific companies, like Kroger, Walmart or Publix, as well as targeting users based on industry, job title, company size, location, and more. This makes reaching qualified B2B contacts much more straightforward and precise than, say, Twitter or Facebook when the goal is to reach buyer audiences. Based on this, it's no surprise that 71% of B2B marketers say LinkedIn is part of their advertising strategy, compared to just 51% for Facebook and only 8% for Instagram.
Pondering how to leverage social media to amplify your B2B marketing efforts in the fresh produce space? Reach out to us for a free consultation!